Hirsute Pursuit: An interview with Harley Phoenix
Hirsute Pursuit create gay sex music for the dancefloor and the bedroom. Hirsute Pursuit are Harley Phoenix and Bryin Dall. Masked and leather clad, Harley Phoenix remains an elusive figure, while Bryin Dall is best known for his work as 4th Sign of the Apocalypse and Loretta's Doll, and as the main collaborator of Genesis Breyer P-Orridge in Thee Majesty.

Together as Hirsute Pursuit they create an uber-masculine atmosphere where Harley Phoenix directs the action in deep, resonating tones over dance beats filtered through an industrial mindset. Their debut release, That Hole Belongs To Me, released on Up and Coming Records, created something of a sensation when tracks first aired on My Space a few years back. Within a short space of time Hirsute Pursuit were eliciting gushing responses from both the gay and straight community for songs such as 'Cock Thoughts'. It's no wonder since the explicit male sexual content was free of the stereotypical gay sound found on bland techno. So much so, that by the time they got around to their second album, they had caught the attention of Peter Christopherson (of Throbbing Gristle, Coil and SoiSong) and Boyd Rice. The involvement of Peter Christopherson, who struck up a correspondence with Harley Phoenix, might not be too surprising given Sleazy fitted a "Daddybear" persona but the involvement of Boyd Rice should have raised an eyebrow or two. Here, was this bastion of male power clamouring to get involved with a group who dealt with gay sex and sleazy beats.

And while Hirsute Pursuit have found an unlikely audience in heterosexual listeners that hasn't stopped You Tube in a blatant act of homophobia pulling one of their videos for its inappropriate content. Hirsute Pursuit have contested the removal of the video for 'I Know What Boys Like' citing that it was removed "only because it's gay!". (There was) Nothing in it that isn't in heterosexual videos!, Harley told me. The video is still available for viewing on Vimeo.

The ensuing album Tighten That Muscle Ring, released on Cold Spring, delivered the goods with an album that was sleazy, dangerous - and kinda funny too. Hirsute Pursuit were in great form on explicit tracks such as 'You're Here To Please Me Boy', 'Fuck' and 'My Pleasure'. Boyd Rice added his customary monotone vocals to Hirsute Pursuit's stark take on David Bowie's 'Boys Keep Swinging'. Sleazy provided the fuck-filled 'One Sleazy Night In New Orleans' and the cinematic 'One Sleazy Night In Bangkok'.

Hirsute Pursuit followed Tighten That Muscle Ring, with the 12-inch Boyd Keeps Swinging featuring 6 mixes of the Bowie track with Boyd Rice on vocals. The accompanying sleeve design depicting a totem pole of gay sex by the artist Syluss Fortay was simply stunning.

Hirsute Pursuit made their live debut on September 7 2012 at a secret show during New York fashion week when they were invited to take part in a showcase for a high-end clothing store in front of designers and store patrons. Their first public show takes place later this month on January 24 at the Europa Club, Brooklyn where they will be performing alongside Boyd Rice/NON, Cult of Youth, House of Blondes.

Hirsute Pursuit are sleazy and filth filled and yet being neither hirsute, gay nor a bear, I, like countless others, can get off on the sounds of Hirsute Pursuit. Maybe it's because as Hirsute Pursuit state: The music is real. The sex is real.

Wanting to find out more and to dig deeper into the motives behind Hirsute Pursuit, with the kindly assistance of P6, compulsiononline compiled a list of questions that we fired off to Harley Phoenix . And we were more than pleased when Harley responded that we were the first interviewers to pose some real questions. "Shit, you know a lot", he quipped. "You did your homework".

That's us. We wanted it. We got it. Here's our interview with Harley Phoenix. Enjoy!

Congratulations, Hirsute Pursuit have just released their second album, Tighten That Muscle Ring to really great reviews. Have you been surprised by the reaction to it?
I'm surprised by the audience that embraced it. It's the exact opposite of what I thought. I figured the gay crowd (especially bears) would get into it. They definitely get into me. Turns out that Hirsute Pursuit has too much balls for them but found an audience with straight guys who are sick of all that metro-sexual shit and want their masculinity back!


You're pretty elusive, but I know you came from a dark electronic music background, would you care to shed some light on this? How has the impact and higher profile of Hirsute Pursuit affected you?
I'm a listener and a fan. I've never been a musician. All of a sudden I got people wanting to take their picture with me and writing me fan letters. I'm used to being worshipped in the dungeon and bedroom, it's kinda weird being admired for something artistic. I like it!

I heard of Hirsute Pursuit first via your My Space and your Facebook profile. The dark and threatening 'Cock Thoughts', from That Hole Belongs To Me, was one of the My Space favourites. Tell us about it?
Everybody is thinking Cock Thoughts whether they want to admit it or not. I just verbalize what's going on in their heads. It's become one of our signature songs. Our first album was self-released and our only promotion was My Space. We built up quite a following there until the site died.

Being online and subversive seems like a natural home for your sound. What has the online feedback and reaction been like?
I get hundreds of letters from guys wanting to be my boy or my slave. They get pretty obsessive (who can blame them?). I believe it's just gay guys, but who the fuck knows. I don't get a lot of fan mail from my listening audience. I'm not sure if they're afraid of me or themselves. The reviews (always from straight guys) have been amazing. They fucking get it!


Do you see any precedents for (or prime influences on) Hirsute Pursuit in music, art or photography? Do you think Hirsute Pursuit fills a (rather gaping) hole in gay men's sex music left since the fall of disco and the rise of numbing, bland techno in gay porn? What do you feel are the best conditions for listening to Hirsute Pursuit?
Hell yeah! Look at Coil. Two guys making music with extremely gay themes, but straight people got into them because it's interesting, talented, groundbreaking music. They pushed the boundaries musically and socially. Xiu Xiu is still around doing the same thing. Mapplethorpe did it with photography.

Most gay musicians that anybody hears of are safe and effeminate. It's safe to market them because you know right away that they're gay and their music is usually fluffy and harmless. Hirsute Pursuit shoves our cocks in your face. It makes anybody that's the least bit uncomfortable with their own sexuality uncomfortable. We're masculine as all fuck. If you met Bryin Dall or myself, you wouldn't know either of us are gay unless we told you. Yet, we're telling you and we're proud of it. Our music is tough and has an edge. It's dark and real. It makes you think, making it difficult to market for gay-oriented media. We've outsold most shit that they play on the "gay channel" LOGO here in the States, but they won't touch us because we're masculine. I wasn't being represented. Gay people, like everybody else, are all different. Some of us are feminine, some of us are masculine and there's a ton of us anywhere between those two. It's about time people know that we exist. It makes me happy that a gay kid with a brain that doesn't like the over-produced, non-musician music crap that's being shoved down his throat has an alternative. I didn't have that growing up.

Hirsute Pursuit is great to listen to in a club, in the bedroom, while working out, while driving down the road. Let's face it, we're all thinking about sex most of the time. Ya might as well have a good soundtrack to go with it.

William Higgins used Yellow Magic Orchestra's 'Rydeen' for his money shots and Patrick Cowley was pretty much obligatory in gay 70's porn but what do you think makes for good sex music? Gay or straight, name your favourite pieces of sex music? Do you see sex as functional or magickal?
It ain't the crap they use in most porno films. I'd rather have no music than what they play. I'm affected by music and when I hear bad crap being played while watching a good fuck, it makes my dick go limp. For me, I like hard, edgy music for sex. It has to be dirty. I'm not tender or sweet when I'm getting my horn scraped.

I had to make music that was intense enough for sex with me. It didn't exist before that! My favourite is 'All About Me' because it is!


Daddy Mack was one of the first bareback bear porn actors and works as an escort in San Francisco and Hirsute Pursuit use recordings from his porno films such as Leather Bears At Play from 1997 but are others recorded during your own sessions or recorded surreptitiously? You use semen in your imagery and a song like 'Fuck You Raw' seems intended to be provocative. What's your 'position' on safer sex? Should certain Hirsute Pursuit songs carry a health warning?
We actually don't use recordings from the film. He really got into Hirsute Pursuit and re-recorded certain things that we wanted to use just for us. All of the sex that you hear in our songs is real and recorded by Bryin. It's cool to watch him placing microphones to capture it.

'Fuck You Raw' is not about bareback. It's about fucking you until you're raw. If you're not practicing safe sex, you got issues. An orgasm isn't worth death. Even if you're getting my spunk.

There's nothing unsafe in our songs. But there are very few guys on the planet that can perform the shit in our songs to the level I can!

Hirsute Pursuit show a raunchy post-Bear side to being gay but I wonder what's your take on current gay stereotypes? Have all the responses to Hirsute Pursuit from the Bear / Leather / SM audiences been positive? How would you account for the straight audience's recent interest?
There's always a new group of gay stereotypes. Guys segregate themselves into groups so that they can feel like they belong to something. Then they can exclude another group like they were excluded from themselves. Bowie put it best when he said, "Same old thing in brand new drag."

No, the response from the Bear community has not been a positive one (much to our surprise). When we first started out, we approached a bear-oriented label and a travelling festival of bear musicians. We were told that they do music that shows a positive image of gay people to the world. They continued by telling us that they did music that could become popular and we just did sex. Well, the label is now defunct and the festival just played out a sold-out show to about 90 people (12 acts played that). We're headlining our first public gig at a venue that holds 500-700 people and it's almost sold out. Tickets available through Ticketmaster. Things that make me smile.

I kind of answered that above, but here's a little more detail from what I can understand. Boyd Rice said to us, "Like the little white suburban kids took to Hip Hop and resonated with it even though they didn't understand most of what was being expressed in the lyrics, Hirsute Pursuit is doing it with gay sex music". We did a secret gig at a very high-end designer clothing store. It was an open champagne bar, invitation only event. None of the people attending knew who we were or that we were playing. Boyd did 'Boys Keep Swinging' with us at the end of the set, but stood in the audience to observe the crowd while we were playing. He told me that he had never seen anything like it. Our music transformed them. Made them get in touch with feelings that they didn't want to acknowledge. By the end of the set, they either wanted to be me or the person that I was talking to. We made a grey crowd turn black or white.

Bryin Dall of Thee Majesty/4th Sign of the Apocalypse was a guest on your first album 'That Hole Belongs To Me' and is now your main collaborator in Hirsute Pursuit. He's from a more industrial experimental musical background, how did you meet and how did the collaboration come about?
Bryin was always one-half of Hirsute Pursuit. He's a bud of mine from way back. We share the same musical taste. One day when I was hanging out in his studio, I threw the idea to him of having a project that was masculine gay sex and sleazy dance beats. He looked at me and said he was sure it was done before. I had been thinking about this for a while and saw that nobody had done it and told him so. He said, "Yeah, let's do it!" That was the day Hirsute Pursuit was born.


Tighten That Muscle Ring features contributions from both Boyd Rice and Peter Christopherson (RIP). I can see the appeal to Sleazy who certainly fitted into a 'Daddybear' persona as he aged (disgracefully), but how did you manage to get him involved and how did he contribute?
Peter wrote to our MySpace page and told me he was a fan of the first album. He also said that he played it all of his DJ gigs. A long correspondence friendship started. Of course I was fan of his from Throbbing Gristle and Coil and was honoured. One day, I figured, what the fuck and asked him if he would do a song with us for the album we were working on. He told me that he gets requests for that all the time and he always says no but would love to be part of a Hirsute Pursuit release. We started working through email. When we finished the song, he asked me if he could do a second song. Not a remix, but a completely different track. We were thrilled.

What about Boyd? He's earned himself something of a dubious public persona but of course is a well known prankster. Can you relate to his 'bad boy' image? Is he planning to join you in January in the live performance? I'm imagining a slightly older version of the great 'Zeigenbock Kopf', both in your muir caps.
Boyd has been a friend of Bryin's since back in the World Serpent days before Loretta's Doll got signed to them. He stays with Bryin whenever he's in NYC. As far as I know, Boyd asked Bryin what he was working on and Bryin played him 'Cock Thoughts'. He wanted to hear more and Bryin played him another track. He loved it and asked how he could get involved in it. We had already picked 'Boys Keep Swinging' so Bryin asked him if he would like to do the vocals for it. Boyd loved the original and the rest is history.

I like Boyd A LOT. He's a very intelligent guy with a lot of diverse interests. We became close once we started working together. We talk about a lot of different things. We've never discussed politics or religion.

He's opening for us on the 24th of January. Cult of Youth is going on before him and House of Blondes is going on before them. Bryin and I handpicked each band.

The Hirsute Pursuit cover of David Bowie's 'Boys Keep Swinging' and several remixes has just been released on vinyl and been sanctioned by Bowie's management. As a career strategy, it's a well worn path; The Associates in Scotland got a publishing deal from Mainman this way in 1979. How difficult was it to get permission and have you had any response from Bowie's representatives or Bowie himself on the finished recording?
We try to put one cover track on each album. Just in case somebody wants to play Hirsute Pursuit on the air. On the first album we did 'I Know What Boys Like'. We recorded 2 different versions because we had to change one line from the original. The original was done by girls (The Waitresses) and one of the lines is, "I do my cat moves". Guys don't do 'cat moves'. The album version says, "I whip my cock out". We have a radio-friendly version that hasn't been released (because no radio has wanted it) where it says, "I show them handcuffs".

Here in the States, if you do a cover song, you just have to pay to release it. Apparently, unknown to us, Bowie has a deal in Europe where the song has to be approved. We didn't know this. It had to go to his publishing company who had to approve it and then, if they did, it had to go to Bowie for his approval. This process took about 6 months. It was approved, but that's all we ever heard from them. It seems a little coincidental that after Bowie heard it, a few months later he starts working on his first album in over 10 years. Just saying.

As far as the re-mixes, we like to include a couple of remixes that can be played in clubs at the end of the album (what the hell, ya got the room, right?). When we did That Hole Belongs to Me, nobody picked the cover song to re-mix. We approached a bunch of people that we admire and asked them if they would like to do a re-mix and sent them the album. THEY ALL PICKED 'BOYS KEEP SWINGING'. We didn't want 6 remixes of the same song at the end of the album so we contacted Cold Spring. We asked them if they would be interested in releasing a 12-inch remix with the 6 mixes or if they would be ok if we shopped the 12-inch to another label. Their response was the best! They said that releasing a 12-inch remix vinyl was insane. We're in insane times, so we say YES!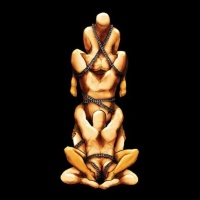 The artwork to the 'Boyd Keeps Swinging' sleeve is stunning, it reminded me of Bastille's great work, albeit without the gas masks. How did your 'boy' Syluss Fortay come up with the idea for the image?
Thanks. I agree with ya (nice comparison by the way). Syluss is a great artist from Samoa. He has artwork hanging in the governor's office there. I asked him if he would like to do the cover to a 12-inch vinyl. He didn't know what that was, so I had to explain to him that it was a record. He was thrilled that I asked him and then he asked me how graphic he could get with it. I told him that it was gay sex so go for it. The original (which I own) was done in pencil. He then scanned it and refined and coloured it in PhotoShop. It's all from his own talented head. That's my boy!

Could you tell us about the secret gig Hirsute Pursuit performed? What should we expect from the upcoming live shows?
When we started Hirsute Pursuit, we looked at it as a studio project. We had no intention of playing any of it live. Bryin did a live show with Genesis Breyer P-Orridge at a high-end designer clothing store (where a t-shirt is $500.00). He gave a copy of the first album to one of the owners as a gift. A straight guy. He loved it. He said he couldn't stop listening to it and was playing it in the store. We were both shocked. Neither of us had ever thought an association of Hirsute Pursuit and couture clothing would exist. He started bugging Bryin to play a live show during Fashion Week in NYC. Bryin asked me and I said, "What the fuck, let's do it". We didn't want it to be one of those stupid 'track acts'. We wanted it to be as live as possible, so we recruited another musician friend who was happy to be a part of the live show. The only thing 'canned' are the drums and the sex sounds. The rest is played live. We were not allowed to announce we were playing and, as I said before, none of the guests knew we were either.

For the first public gig, we've had more time (and a gig under our belts) to refine the show and include a couple of 'guests'. We've also expanded it and are actually debuting a song from the next album (we're recording that now).

What's next for Hirsute Pursuit? Any more collaborations planned?
Definitely. We have a lot of fans (again, mostly straight guys) who are also amazing musicians in their own right and have their own projects/bands. We've been approached by several of them and have also approached some ourselves. The next album will be filled with guests from a ton of different genres. It's exciting.

Finally, if you don't do cat moves what do you do then?
Sorry, already answered that one! Wink.

Key Resources:
Hirsute Pursuit on Facebook - Hirsute Pursuit Facebook page
Cold Spring Records - label for Hirsute Pursuit releases
The Leatherman - supplier of leather outfits for Harley Phoenix

All photographs ©gregcphotography. The full set of photos from the Hirsute Pursuit shoot with Greg Cristman can be viewed here